THE BoxToBake IS A PATENTED CONCEPT

WITH PLENTY OF CONVENIENCE AND HIGH QUALITY
The BoxToBake is a patented concept, where ingredients are contained in the BOX, and where a dough for bread or cake can be prepared in the BOX by simply adding water and shaking it, and finally baked in the BOX.
The dough is flourmixes of very high quality, allowing the consumers to be succesfull with baking bread or cake in similar or higher quality than if they buy from a professional bakery.
Simply put:
AD WATER, SHAKE
AND BAKE IN THE BOX
About the BoxToBake:
The box is made of ovenable cardboard that can resist heat up till 280 degrees celcious for a period of 2 hours.
The cardboard can be FSC certified.
The size of the box is optimized with the content, and the baking recommendations, to make sure the customer gets a bread or cake of the highest quality. Not to flat or not to high, but just perfect.
The box are sprayed on the inside with a vegetable oil, so the bread or cake is easily removed after baking.
After baking the cardboard is removed and disposed easily as normal household waste.
No dishwashing needed.
– simple and easy.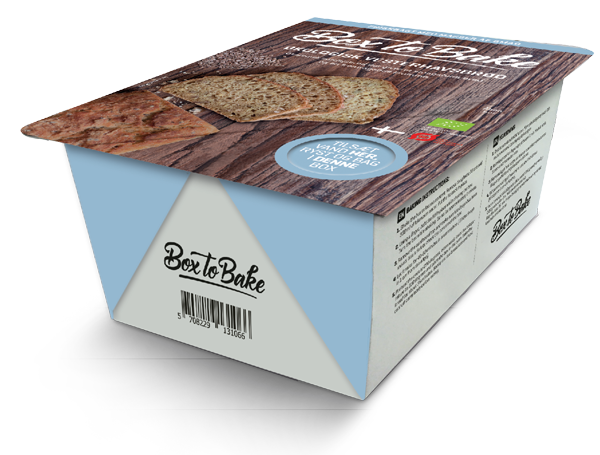 YOU ARE ALWAYS WELCOME TO CONTACT US IF
YOU HAVE QUISTIONS ABOUT OUR PRODUCT.